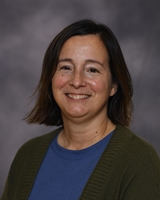 Michelle Hiltz
Teacher, Gr. 3-5, Team Leader
What I do
Michelle currently resides with her family in Saco.  She enjoys being outside and spends as much time as possible in nature gardening, hiking, and camping.  She loves traveling and seeing new places. Michelle is a big sports fan and especially enjoys watching football and managing her fantasy team.  
Michelle has a Bachelor's of Sociology degree from the University of Southern Maine and is a certified Special Education teacher. She is starting her 4th year at Loranger Memorial School working with students in grades 3-5 and is the team leader for the 3-5 Special Education team. Michelle is a strong proponent of a Least Restrictive Environment and works hard to support student success in the regular education inclusive setting. Michelle is currently working towards a Master's degree in Literacy.
Prior to working at Loranger Memorial School, Michelle worked at Sweetser for 15 years as a Mental Health worker and Special Education teacher.  Her desire to work with people with special needs began in high school when she worked at a summer camp for adults with intellectual disabilities, a job she loved and still attributes as a strong influence in molding her perceptions regarding people with disabilities.