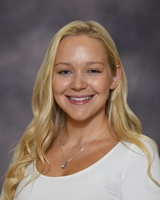 Jacqueline Palmer
What I do
When not teaching, I spend my time with my wonderful and hilarious family and friends. We love playing board games, cooking delicious meals, and spending time outdoors. To maintain a healthy lifestyle, I love to go to the gym, run, and paddle board in the ocean!
I began teaching at Loranger Memorial School in 2022 as a 4th grade teacher. I teach with the goal of ensuring my students feel excited to come into the classroom each and every day, knowing that their teacher understands, respects, and loves them as a unique individual. My favorite part of teaching is the relationships I have made with my students and their families throughout the years. I cultivate a learning space where diverse perspectives are welcomed and students are nourished both intellectually and emotionally. My ultimate goal is to empower my students into becoming agents in their own learning and see it as a never-ending process that they cherish and love.
Before coming to LMS, I taught 4th, 5th, and 7th grade in Brewer, Maine and Boca Raton, Florida. I was born and raised in Bangor and attended the University of Maine in Orono earning a degree in K-8 elementary education.