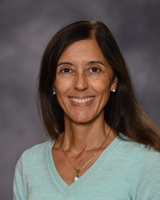 Graciela Lamy
What I do
Graciela enjoys sailing, going to the beach and spending time with her family and friends. She attempts to skate and play hockey in the winter. She also enjoys being part of a community where most people know each other.  
Graciela was born in Uruguay, South America. She came to the U.S. as an exchange student in 1992. She majored in French and minored in German at the University of Southern Maine. She has been teaching foreign languages ever since. She enjoys watching the progress students make between September and June and their proud faces when they realize how much they have learned.
Graciela has lived in Uruguay, Brazil, and the U.S. over the course of her lifetime. Before LMS, she taught at Windham Middle School for 19 years. She is also a certified court interpreter.