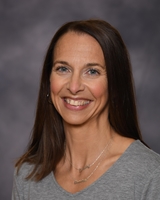 Casey Rossignol
Language Arts & Social Studies, Team Leader
What I do
Casey enjoys her local gym and learning about nutrition. She grew up in Yarmouth, Maine and has an amazing family she loves spending time with, especially her two young children, Charlie and Caedy. Ms. Rossignol loves traveling to Disney, reading a great book and summer adventures with family and friends.
Casey started at Loranger Memorial School nine years ago as a fifth grade teacher before transitioning to sixth grade. She earned her teaching degree from the University of New England and has been teaching 6th grade ELA for eight years and social studies for four years. Casey is passionate about the social-emotional learning of her students and believes this goes hand-in-hand with the development of their academic skills. Community building and engaging learning adventures are at the heart of her classroom. Casey loves helping her students dream big, be inspired and follow their passions.
Before coming to Loranger Memorial School, Casey earned her B.S. in Business Administration from Husson University and worked in Marketing for nine years. Casey has found her business experience to be beneficial to her teaching career by remembering the "real-world" perspective for her students to see through their learning.