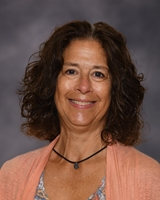 Carrie Skeffington
Math & Social Studies, Team Leader
What I do
Mrs. Skeffington lives in South Portland with her husband and two daughters. She enjoys running, hiking, camping, and cheering for the Red Sox.
Mrs. Skeffington has been teaching at Loranger since 1994. She currently teaches 8th grade math and social studies and is the 8th grade team leader. She has served on various school and district committees, including Curriculum Design Team, data analysis work, PBIS and Advisory Committee.
Before coming to Loranger, Mrs. Skeffington taught 7th grade math and reading in Hartland, Maine. She attended the University of Maine in Orono.