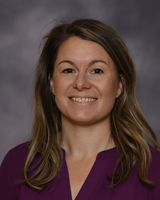 Ashleigh Dennis
What I do
Ashleigh lives in Saco with her husband Andrew, her two sons Isaac and Ivan, and a dog named Oregon. They love to visit the library, eat ice cream, enjoy all the outdoor fun that Maine has to offer and play board games. In the fall Ashleigh enjoys sharing her goalkeeping experience with students on the field hockey team at LMS.
Ashleigh began teaching seventh grade mathematics at Loranger Memorial School in the Fall of 2005. Currently she is employed as an RTI Interventionist for grades 3-8.  In this role she is enjoying making personal connections and using data to plan instruction for students. She has an interest in using technological tools to enhance learning and has served on a few committees with this in mind.  She also enjoys coding and sharing favorite books with students.
Before starting her teaching career, Ashleigh attended the University of Maine at Farmington in pursuit of a degree in elementary education.  She knew from a young age that she wanted to work with children and began volunteering at the elementary school next door when she was enrolled at Freeport High School.  She continued this practice during her four years at UMF in the local Farmington schools. Ashleigh was a member of the UMF field hockey team and participated in the NCAA tournament as well as earning other North Atlantic Conference athletic and academic honors.