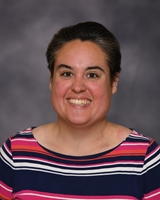 Melissa West
Librarian & Technology Specialist
What I do
Melissa is a member of the Maine Student Book Award selection committee, and so spends most of her free time reading books or listening to audiobooks while walking her dog.
Melissa West is the Library Media Specialist. She has been told that her enthusiasm for books and research databases is infectious. She aims to provide a school library program that is an integral part of the school community. This is her second year at LMS.
Melissa was inspired to pursue a career as a librarian by her Peace Corps service in Azerbaijan, where her secondary project was working with youth at a local regional library. Melissa received her MLS from Texas Woman's University in 2014, and moved to Maine in September 2015 to be a public librarian.
Before she became a professional librarian Melissa taught English as a Second language for more than eight years. She has worked with adult learners at community centers, children in rural classrooms and adolescents at summer enrichment programs.