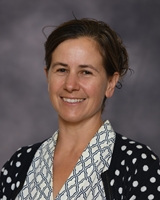 Laura Seaver-Maley
Classroom Teacher, Team Leader
What I do
Laura has a husband and two children, Theo and Susie, and lives in South Portland. She loves to spend time outside- hiking, biking, gardening, swimming, paddleboarding, cross-country skiing, and sledding. She feels strongly about living sustainably and tries to impart lessons of environmental responsibility and stewardship for our planet.
Laura started teaching at Loranger in the fall of 2005 as an 8th grade Science teacher. In 2013 she switched to 6th grade Science, and in 2021 she moved to 5th grade Science and Social Studies. She loves working with students of all ages and finding ways to keep them engaged in what they're learning. Whenever possible, she likes to get kids outside and involved in authentic experiences.
Laura grew up in Maine and studied Anthropology while at Wesleyan University in Connecticut. She spent a semester in Zimbabwe which opened her eyes to the world. She always loved learning about people and cultures, so after college, she moved to San Francisco where she spent six years teaching environmental and outdoor education. She enjoyed the opportunity to explore beautiful places with children but eventually wanted to move back to Maine to be closer to family. She got certified as a classroom teacher and earned a Masters Degree in Teaching and Learning from the University of Southern Maine.