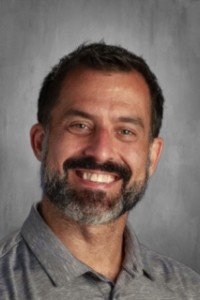 Jason Dionne
What I do
Having been a modern dancer for many years, Jay is continuously seeking the artfulness found in the everyday through movement, visual art, poetry, and fiction writing. Jay and his husband live near the Portland Trails, so there are plenty of walks in the Trails with their fantastic beagle. This more relaxing aspect of Jay's life is a beautiful contrast to his more aggressive commitment to being a Crossfitter! Jay is deeply committed to community service, especially service devoted to people who are struggling with homelessness and addiction.
Jason Dionne is the Dean of Students at Loranger Memorial School. Jason (Jay) believes steadfastly in the possibility held within each individual. Ecstatic to be a player on this team, Jay is thrilled to work and play alongside such a phenomenal staff who are tirelessly standing, working, and thriving alongside youth every day. 
Coming to Old Orchard Beach most recently from Westbrook, Jay has spent most of his career in Boston within the Boston Public Schools where he was a Humanities educator and an educational leader in multiple schools. Graduated from USM's Ed. Leadership program with a focus on social-emotional awareness, Jay absolutely loves generating possibilities with youth central to the conversation, and is eager to continue developing an excellent culture and climate at Loranger in which youth are encouraged and nurtured to be self-aware, compassionate, accountable, productive, and reflective lifelong learners.